Introducing Pay-as-you-go pricing for Apigee API Management
Apigee is Google Cloud's API management platform that enables organizations to build, operate, manage and monetize their APIs. Customers from industries around the world trust Apigee to build and scale their API programs.
While some organizations operate with mature API-first strategies, others might still be working on a modernization strategy. Even within an organization, different teams often end up with diverse use cases and choices for API management. From Google's conversations with customers, they are increasingly hearing the need to align Google's capabilities and pricing with such varied workloads.
Google are excited to introduce a Pay-as-you-go pricing model to enable customers to unlock Apigee's API management capabilities whilst retaining the flexibility to manage their own costs. Starting today, customers will have the option to use Apigee by paying only for what they are using. This new pricing model is offered as a complement to the existing Subscription plans (or) the ability to evaluate it for free.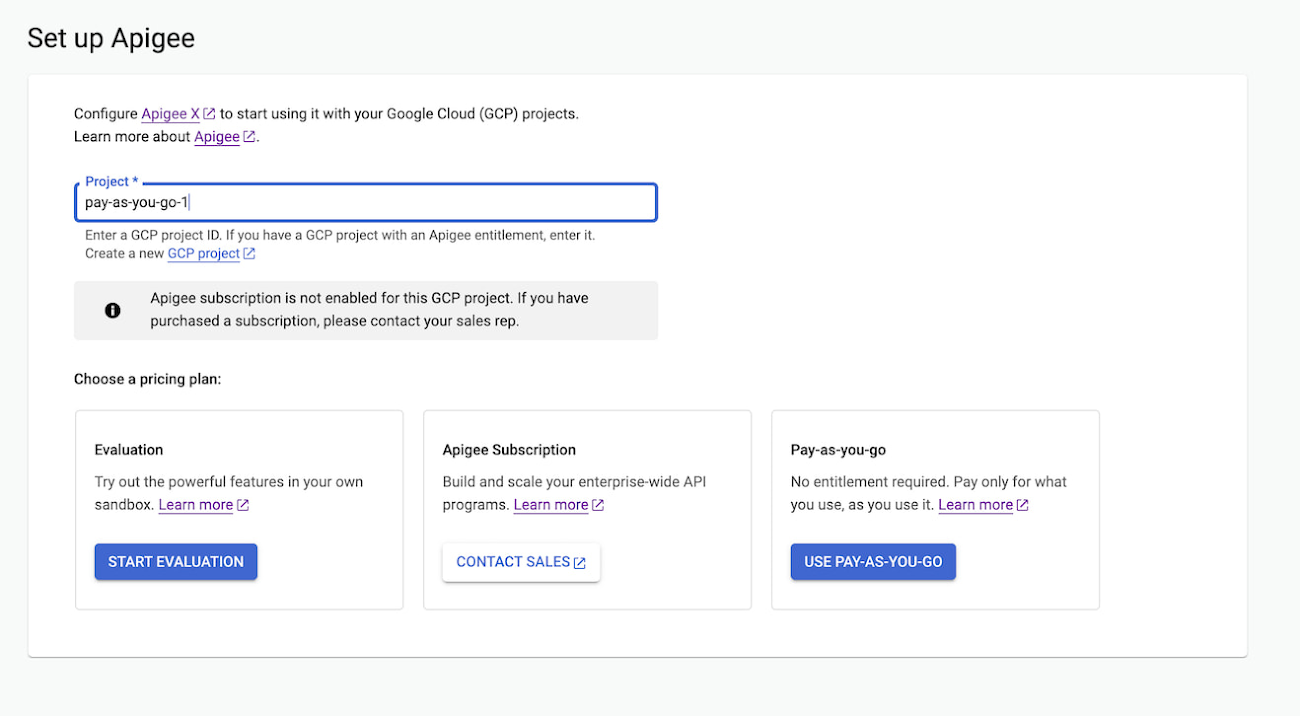 Start small, but powerful with Pay-as-you-go pricing
The new Pay-as-you-go pricing model offers flexibility for organizations to:
Unlock the value of Apigee with no upfront commitment: Get up and running quickly without any upfront purchasing or commitment
Maintain flexibility and control in costs: Adapt to ever-changing needs whilst maintaining low costs. You can continue to automatically scale with Pay-as-you-go or switch to Subscription tiers based on your usage
Provide freedom to experiment: Every API management use case is different and with Pay-as-you-go you can experiment with new use cases by unlocking value provided by Apigee without a long term commitment
Pay-as-you-go pricing works just like the rest of your Google Cloud bills, allowing you to get started without any license commitment or upfront purchasing. As part of the Pay-as-you-go pricing model, you will only be charged based on your consumption of
Apigee gateway nodes: You will be charged on your API traffic based on the number of Apigee gateway nodes (a unit of environment that processes API traffic) used per minute. Any nodes that you provision would be charged every minute and billed for a minimum of one minute.
API analytics: You will be charged for the total number of API requests analyzed per month. API requests, whether they are successful or not, are processed by Apigee analytics. Analytics data is preserved for three months.
Networking usage: You will be charged on the networking (such as IP address, network egress, forwarding rules etc.,) based on usage
When is Pay-as-you-go pricing right for me?
Apigee offers three different pricing models
Evaluation plan to access Apigee's capabilities at no cost for 60 days
Subscription plans across Standard, Enterprise or Enterprise plus based on your predictable but high volume API needs
Pay-as-you-go without any startup costs
Subscription plans are ideal for use cases with predictable workloads for a given time period, whereas Pay-as-you-go pricing is ideal if you are starting small with a high value workload. Here are a few use cases where organizations would choose Pay-as-you-go if they want to:
Establish usage patterns before choosing a Subscription model
Evolve their API program by starting with high value and low volume API use cases
Manage and protect your applications build on Google cloud infrastructure
Migrate or modernize your services gradually without disruption
Next steps
Every organization is increasingly relying on APIs to build new applications, adopt modern architectures or create new experiences. In such transformation journeys, Apigee's Pay-as-you-go pricing will provide flexibility for organizations to start small and scale seamlessly with their API management needs.
To get started with Apigee's Pay-as-you-go pricing go to console or try it for free here
Check out Google's documentation and pricing calculator for further details on Apigee's Pay-as-you-go pricing for API management. For comparison and other information, take a look at the pricing page.